Custom Material Slitting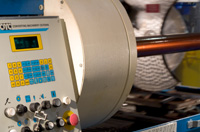 LGS has more than 50 years experience in the custom slitting of materials. Standard or "Bologna Slitting" takes place daily in our facility. We can custom cut tape for our customers or simply prep raw materials for efficient production. Our in house slitting capabilities allow us to maximize production speed and speed time to delivery.
There are multiple methods for slitting materials, here are a few examples:
Slitter/rewinder
Production slitting
Rotary slitting
Turnkey slitting
Bologna slitting
Custom tolerance slitting
If you have a problem, let us find the solution.