Custom Sheetmetal Fabrication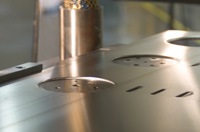 CNC fabrication is one of the fastest growing segments of production at LGS. We are excited to be able to present a large number of options for the rapidly increasing number of highly specialized parts. All materials (elastomers, plastics, metals, sheet metal, etc.) are utilized in this area and we are ready to accept any challenge.
Some of the elements of our CNC area include CAD/CAM design (from scratch or from your files) for the following:
Turret presses
Brake presses for forming
Routers (including multi-head operation)
Laser cut parts
Water jet parts
Mill and Lathe parts in our machine shop
Whatever your need, our CNC fabrication team can meet the challenge. From "quick turn" prototypes to large scale components, we are there for you.