Hand Assembly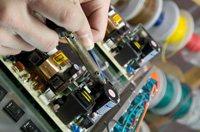 Automation is great, but sometimes there is still no substitute for good old "roll up your sleeves" manpower. At LGS we can satisfy this need with our experienced Hand Assembly team. Many times when the part is finished at the press, the job is still not done. We like to specialize in "valued added" processes. Many of these are still done by hand. Here are some examples:
Inserting hardware
Customizing PSA application
Assembling component parts into a finished product
Hand forming
Gluing processes
Turnkey assemblies
In addition, many parts can still be made by hand from start to finish. This can often be helpful when prototyping is necessary. Let us give you a hand with all your requirements.