Tool & Die Engineering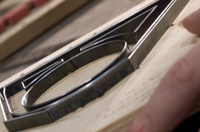 At LGS, we pride ourselves on being a "one stop shop". Our extensive Tool and Die operation allows us the ability to create our manufacturing tools in-house in a vast majority of cases. We achieve total process control by moving from CAD/CAM design to Laser burning (for steel rule dies), to die assembly, and finally to the press to cut the part. This allows you to receive your parts in the timeliest manner and at the best price.
A few of the key features of our tool and die engineering include:
Trained engineering staff to aid in problem solving and tool/die design
In house die shop for steel rule tools
CAD/CAM design team
In house machine shop for Class A tooling
Technical support staff to match your part with the optimal Tool/Die process
Whether you have a fully engineered part, or just an idea of what you want, our Tool and Die team is there for you.