Custom Die Cutting
Experience & Rapid Delivery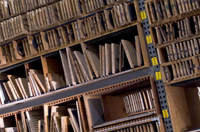 LGS has specialized in custom die-cutting since we opened our doors over 50 years ago. Our in-house die library contains over 40,000 dies and continues to grow. We can match your needs to the most efficient method of producing your part including steel rule die cutting, rotary die cutting and clean room die cutting. Whether you require thousands of parts or just a few, we can handle the job.
Our experienced operators leverage an extensive technology platform to deliver the best die cutting configurations for your product, material and assembly requirements. When you need samples and prototypes for product testing or manufacturing validation, LGS is uniquely equipped to deliver rapidly, and to make product and process adjustments just as quickly. Our engineering group specializes in fast-paced new product development and understands the interrelationship between materials and processes. This means you can solve problems faster and get to market sooner.
Custom Die Cutting Capabilities
Here are some reasons to make us your preferred source for die-cutting:
Tonnage range from 5-400 tons
Large array of open back incline (OBI) hydraulic and pneumatic presses to handle small runs and large parts
Full range of automatic presses for large runs and smaller parts
Kiss-cutting options
Flexibility of operations that allows for quick turnaround on hot parts
Creasing and scoring to form die-cut parts
If you find yourself in need of assistance of any kind, we will be there for you. Give us the opportunity to earn your business for years to come.