Bonding and Laminating with Adhesives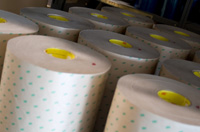 Many parts in production today require the addition of adhesives. It can be on the back of a part for application, or it can be used to adhere multiple material layers together. At LGS we use many of the top adhesive manufacturers, including: 3M, Adchem, Mactac, Nitto, Avery Dennison, Tesa, etc.
Most materials can be bonded with an adhesive, provided that the correct one is chosen. That's where we come in… with over 50 years experience in lamination, we will match the proper adhesive to your application.
Some factors to consider:
Low surface energy materials (difficult for many standard adhesives)
High surface energy materials
Bonding high surface energy materials to
Low surface energy materials
Bonding on irregular or textured surfaces
Bonding on porous surfaces
Zone coating adhesives
Two sided adhesive coating
Whatever your needs, let LGS be the solution.