CNC Precision Machining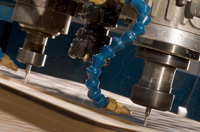 Are you looking for the perfect part? If tight tolerances are causing you pain, see us for the cure. Our custom machining shop contains state-of-the-art CNC mills and lathes as well as wire cut EDM capabilities. We can take your part from your CAD files, or create a program customized to your needs. Still not sure you need a machined part?
Think about the following:
Do you need tolerances under .005, .002, or even .001?
Are you working with thick metals or difficult composite materials?
Does your part require x, y, z axis operations?
Have you had rejections using conventional production methods?
If you answered yes to any of these questions, give us a call and let us put our machine shop to work for you. Need a prototype? We are happy to provide rapid prototyping services for any CNC machined part.